Surviving in a speculative work environment
TL:DR:
2,806 people were laid off in the crypto industry in January 2023, according to CoinGecko.
Centralized crypto exchanges were the worst hit, accounting for 84% of all layoffs.
The report cites declining trading volumes and revenues as reasons behind the job cuts.
Psychological volatility
Layoffs can have a profound impact on individuals and communities. The loss of a job can lead to a feeling of shame and a loss of identity. It can also result in financial stress and uncertainty as individuals struggle to make ends meet. On a broader scale, layoffs can lead to a decrease in consumer spending, a rise in poverty, and a decline in economic growth. This can lead to a vicious cycle of economic hardship and job loss, further exacerbating the situation.
In order to mitigate the psychological impact of layoffs, it is important for companies to provide support and resources to affected employees. This can include outplacement services, financial counseling, and career transition assistance. It is also important for government policies to provide support for those who have lost their jobs, such as unemployment benefits, retraining programs, and tax credits for hiring.
Crypto job losses
The crypto industry experienced a new wave of layoffs in January 2023, with as many as 2,806 people losing their jobs, according to a recent report by CoinGecko. The research suggests that this year may see an increase in layoffs from last year's figure of nearly 7,000, as the bear market and tough global economic conditions continue to affect companies' bottom lines.
At least 14 companies announced staff reductions in January, including high-profile firms like Coinbase, Gemini, Digital Currency Group, ConsenSys, and Blockchain.com. The cuts reportedly affected nearly 2,900 employees in total, with some companies reducing their workforce by as much as a third.
One of the latest firms to announce layoffs was Prime Trust, a crypto infrastructure provider that reportedly cut its employee count by around 100. Matrixport, a crypto platform, also cut 30 staff members, while Gemini, a crypto exchange, laid off roughly 100 employees. Meanwhile, Coinbase, one of the largest crypto exchanges, reduced its headcount by 950 employees. Other crypto exchanges like Crypto.com, Luno, and Huobi also made significant staff cuts, with reductions of around 500, 330, and 320 employees respectively.
Digital Currency Group (DCG) and its subsidiaries were also hit by significant layoffs, with 485 workers losing their jobs in January as the company navigated a financial crisis. The DCG-owned Luno saw the most layoffs, while DCG itself cut 66 employees and its subsidiary lending platform Genesis cut 63 jobs. Its asset management firm HQ Digital also shuttered, affecting 26 staff members. Other companies that saw staff reductions included Silvergate, a crypto bank that cut 200 employees, Blockchain.com, which cut 110 employees, and MetaMask's parent company ConsenSys, which terminated 96 staff members. The nonfungible token (NFT) marketplace SuperRare also let go of 20 staff members.
Bitcoin had a better run
Despite these large-scale crypto industry layoffs, Bitcoin performed strongly in January, reaching nearly $25,000, driven by increasing institutional demand. However, the crypto industry layoffs were not isolated and were part of a larger trend of job cuts across the tech industry. Around 48,000 people were let go from just four companies – Google, Amazon, Microsoft, and Salesforce – in January alone.
Despite the current job market, Pantera Capital, a crypto hedge fund, believes that this is a great time to start a blockchain company. According to the firm, bear markets provide an environment with "less noise and distraction from building." This sentiment suggests that the crypto industry may eventually recover from the current market challenges and offer new opportunities for growth and employment.
While this may be a difficult time for those affected, it is important to keep in mind that the crypto industry is still a relatively new and rapidly evolving field, and as such, it is likely to face challenges and fluctuations in the job market. Nevertheless, some believe that the current market environment may offer new opportunities for growth and innovation in the crypto industry.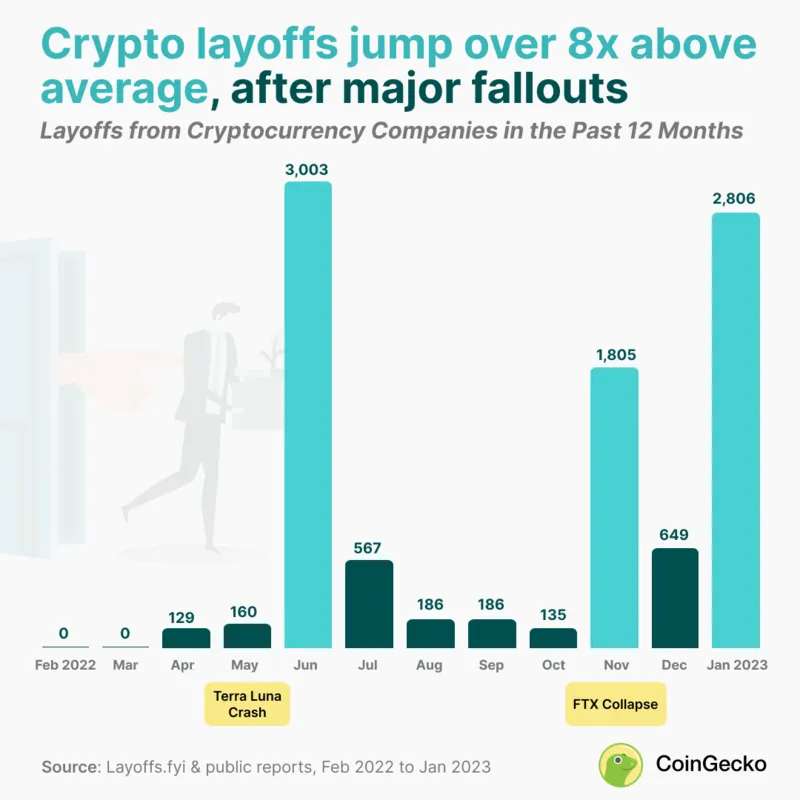 In Summary, Centralized crypto exchanges were the hardest hit, accounting for 84% of all job cuts, with declining trading volumes and revenues cited as the main reasons. Major exchanges that made sweeping layoffs included Huobi, Coinbase, Blockchain.com, Crypto.com, and Luno. June 2022 saw the highest number of job cuts in a single month, with 3,003 employees losing their jobs, while November 2022 saw another 1,805 employees laid off.
In January 2023, crypto layoffs accounted for 4% of all tech layoffs, with consumer technology, foodtech, and transportation sectors being the hardest hit. However, crypto layoffs match a broader trend in the technology sector, with crypto accounting for 4.3% of all tech layoffs last year.
Thanks for reading Solanews, make sure to follow our social media channels for more.