The NFL is going to the metaverse
Continued acceptance of web3
The NFL has continued to embrace digital experiences and has now announced plans for the first-ever virtual Super Bowl concert. This innovative event will feature hip-hop artist Saweetie, who will perform on the massively popular multiplayer online game, Roblox. The concert will take place in Rhythm City—a music-themed social roleplay experience built by Warner Music Group, Saweetie's label. The concert will be open to Roblox users on February 10th and will replay 31 times, every hour on the hour, until Super Bowl Sunday.
Saweetie
Saweetie is a rapper, singer, and songwriter from the United States. Born Diamonté Harper on July 2, 1993, in Santa Clara, California, she rose to prominence with her debut single "ICY GRL" in 2017. The track went viral on social media and helped establish her as a rising artist in the hip-hop scene. She went on to release her debut EP, "High Maintenance," in 2018, which received positive reviews and solidified her place in the industry.
Saweetie has since released a number of successful tracks, including "Tap In," "My Type," and "Fast (Motion)" among others. Her music style blends elements of trap, hip-hop, and R&B, and she has been described as having a bold, confident, and unapologetic persona. She has also been recognized for her fashion sense, which includes a mix of high-end and streetwear brands, as well as her catchphrase "Icy, but make it fashion."
Saweetie is one of the hottest young talents in the hip-hop industry and continues to evolve and grow her brand. She has been recognized for her contributions to music, receiving multiple award nominations and accolades, and has worked with many prominent artists and brands. She is also known for her activism and community involvement, using her platform to raise awareness about important issues.
The Concert
The Saweetie Super Bowl Concert was developed in partnership with metaverse game developer Gamefam and is sponsored by Intuit. These same companies have also assisted the NFL in creating another Roblox experience, NFL Super Tycoon, which will allow players to simulate being an NFL team owner. NFL Super Tycoon will launch on Roblox on February 11th and will be managed by navigating team cashflow, payroll, taxes, and customer acquisition with the help of Intuit products.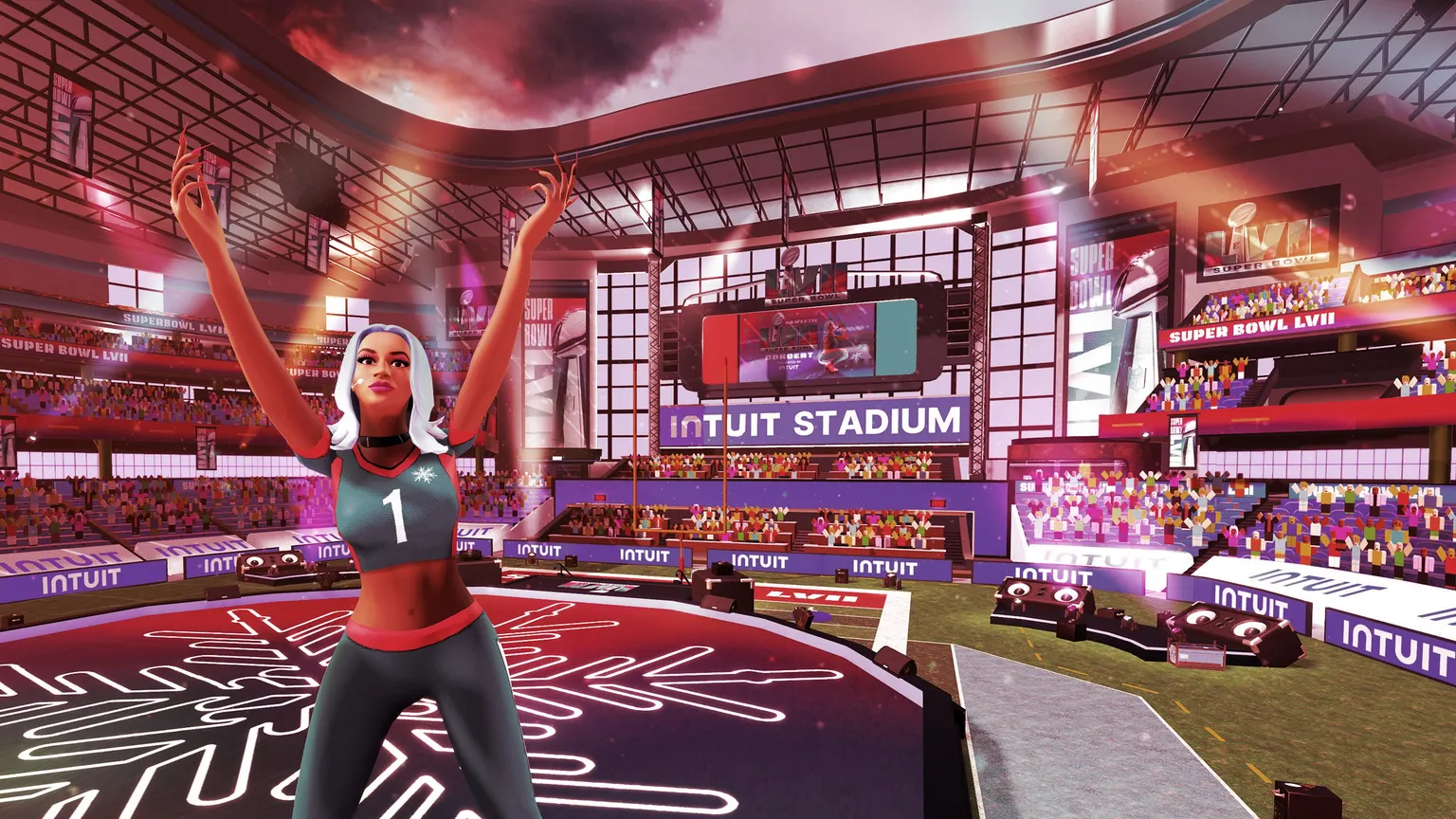 Roblox 
Roblox is a traditional Web2 game built around user-generated content and does not use NFTs or other blockchain-based technologies. Despite this, Roblox boasts a staggering 57.8 million daily users, making it a popular choice for the NFL's virtual concert. The NFL's experiments on Roblox appear to be part of a larger metaverse push for the sports organization. Ed Kiang, the NFL's VP of Video Gaming, described the virtual Super Bowl concert as "an anchor entertainment event bringing fans together in the metaverse."
The NFL has previously dabbled in blockchain-based endeavors, with the opening of NFL All Day, an NFT collectibles platform built on the Flow blockchain in partnership with Dapper Labs. The collection has generated over $70 million in sales. This football season, the NFL also offered commemorative NFT ticket stubs at over 100 games in partnership with TicketMaster.
The NFL's move into the metaverse continues to blur the lines between virtual and real-life experiences. The Saweetie Super Bowl Concert will provide fans with a unique and immersive opportunity to experience the excitement of the Super Bowl, even if they are unable to attend in person. The concert is set to be an unforgettable event, and the NFL's foray into the metaverse is an exciting development for fans and the industry alike.
Grab your virtual reality headset, log into Roblox, and get ready for a metaverse experience like no other. Saweetie's Super Bowl concert will be a performance not to be missed, and with the NFL's continued commitment to exploring the potential of the metaverse, fans can expect to see even more exciting developments in the future.