AI Building
Artificial intelligence (AI) is taking center stage in the technology world, and it's no surprise that it's already being utilized to create custom worlds in the metaverse. Oncyber, a 3D world-building platform, has developed an AI-powered tool called Magic Composer that allows users to customize their environments via text commands. The platform, which supports a wide array of NFTs, is used by Web3 creators and communities.
The tool is powered by OpenAI's GPT-3.5 model, which allows users to make real-time changes to the 3D world with simple text prompts. The tool can change the look and color of the sky, add artist's NFT works from the user's connected crypto wallet, customize the look and size of picture frames, and more.
Oncyber founder and CEO Rayan Boutaleb said that the goal of the tool is to help users unlock their creativity on the platform. The Magic Composer is a way for users to get what they want with relative ease. As Oncyber adds more world-building features and provides ways for creators to develop richer environments, the AI tool will cut through some of the complexity and ensure accessible ways to personalize online 3D spaces.
Boutaleb said that the AI tool will be rolled out to a select group of testers starting Monday, March 20, and then to public users a few days later. More robust AI functionality is on the horizon, too. Boutaleb hopes to add more complex generative features, such as the ability to generate bespoke or modified 3D architecture by typing out a request. Over time, Oncyber's goal is to have "less and less boundaries/limits" for users.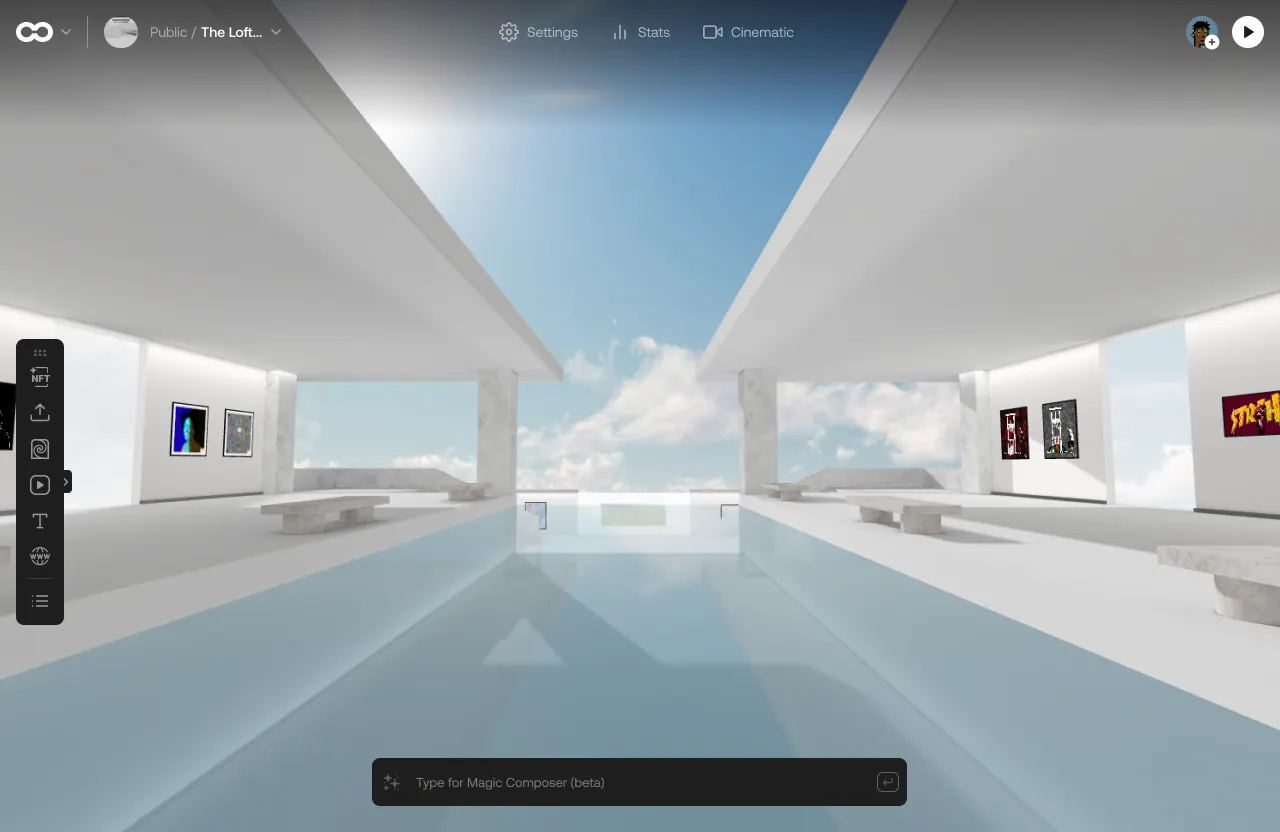 Launched in 2021, Oncyber has called itself a metaverse platform, sharing commonalities with Web3 metaverse gaming platforms like Decentraland and The Sandbox. However, unlike those platforms, Oncyber doesn't sell NFT land plots required to build within those worlds. The platform does sell NFT-based templates, working with architects and designers to develop prefab spaces that can be further personalized. There are also free spaces and templates available, and users don't need an NFT or a crypto wallet to create a space.
Oncyber lets users bring in owned NFTs across Ethereum, Solana, Polygon, and other networks. Some NFT collectors use Oncyber to create their own virtual art galleries, while others use the platform to host immersive online community events.
Boutaleb said that because Oncyber wasn't tethered to the NFT land hype cycle that surged and then plummeted, his team has focused on steady iteration to the platform. Other recent additions include enhanced VR support plus the ability to port in external video and screen-sharing streams.
In the next iteration of the Magic Composer, Oncyber plans to let users port any hallucination or dream they have into a 3D canvas and directly see the result of what they might imagine and change things up. It's a big step towards a very big end result, and it's not that far off. Oncyber is leading the way in creating a world where AI can be used to create custom metaverse worlds, and it's exciting to see where this technology will take us in the future.
Thanks for reading Solanews , remember to follow our social media channels for more!